FAB Logistics Services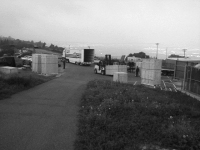 FAB Logistics is dedicated to providing high-quality transportation and logistics services. Our success is based purely on our customers' successes. Our competitive advantage lies in the confidence we earn from our clients each time they entrust FAB Logistics to meet their logistics needs.
We provide a global service to shippers of many types of cargo. Our primary business is transporting semiconductor manufacturing machinery and emerging technologies capital equipment. We manage and perform the relocation of sophisticated technology hardware globally.
FAB Logistics is represented in major markets worldwide, allowing us to provide door-to-door service to and from anywhere in the world. We serve all 50 US states and all foreign countries (where allowed by law), including all provinces, territories, commonwealths, and trade zones.
We maintain strong working relationships throughout the world with airlines, ocean carriers, NVOCCs, trucking operators, and specialty service providers such as engineering and environmental services companies. Our skill in negotiating with carriers and service providers provides a significant cost benefit to our customers.