Value Added Services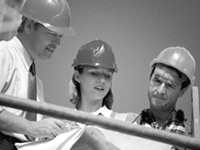 With a wide range of value added services, FAB Logistics can take care of all your factory relocation, machinery rigging and freight forwarding requirements.
Rigging
Professional and trained machinery riggers and millwrights are added to our logistics team to move fab equipment in and out of labs and factories globally. Our riggers are experienced in cleanroom protocols and are capable of safely moving machines and peripheral equipment in and out of challenging locations.
De- & Re-Commissioning Tools & Equipment
FAB Logistics adds tool engineering services to the relocation process, including decontamination, disassembly, de-installation, and re-commissioning at the new location. We draw upon a large pool of OEM trained field service technicians to ensure quality processes for equipment de- and re-installation.
Packaging & Crating
Significant emphasis is placed on proper packaging of delicate manufacturing machinery. We employ trained packing professionals throughout the world to carefully design crates for fab equipment, including vapor barrier bagging, desiccant, foam cushioning, floating deck bases, proper weight support and distribution, internal bracing and securing, utilization of shockwatches, and marking and labeling. Our packing adheres to ISPM15 standards for international shipping.
Warehousing & Distribution
FAB Logistics will provide short- or long-term secure warehousing for machines and equipment. We manage clients' warehousing needs in Asia, Europe, and throughout the US. Climate-controlled warehousing is provided in certain markets. We arrange distribution of machines direct to our customers' clients.
Foreign-to-Foreign Logistics
Many US clients take advantage of our ability to move assets and equipment to and from locations outside the US. FAB Logistics manages the entire process, including cost management, customs compliance and all activities on a door-to-door basis. We are capable of managing "blind" shipments where originator and recipient information is kept confidential.
Project Management
FAB Logistics builds teams of specialists, under our management, to undertake sophisticated factory relocations, ramp-ups, or closures. We work with our clients to establish critical timeframe, budgetary, and Scope of Work parameters, and set out to execute the equipment relocation or delivery. Our overarching goal, on all projects, is the safety of personnel, assets, and facilities at all times.
Asset Disposal
FAB Logistics will arrange for the disposal or liquidation of assets, as required by our clients. We ensure that any disposal is done in accordance with regulations of local authorities.
Clients with many and varied logistics requirements trust us with everything from specialist tool moves to complete factory relocations worth millions of pounds. Whatever the size or complexity of the project, we work closely with clients to provide a tailor-made service...
Find out more about this and our other freight forwarding services.
Export Compliance
Our trained staff supports exporting clients with US Department of Commerce export compliance matters, including adherence to Bureau of Industry and Security regulations. We are certified to submit AES (Automated Export System) filings with US Customs...
Find out more about this and our other international services.
Factory Relocation
From single machine moves to complete factory relocation, FAB Logistics offers the skills, track record and peace of mind for all high-value or delicate capital equipment moves...