FAB Logistics Freight Forwarding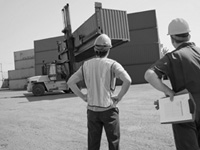 Clients with many and varied logistics requirements trust us with everything from specialist machinery movement to complete factory relocations worth millions of pounds. Whatever the size or complexity of the project, we work closely with clients to provide a tailor-made service.
Air Cargo Services
FAB Logistics is an IATA-member, and Homeland Security-certified Indirect Air Carrier (IAC), international air freight forwarder. Our standing gives us access to all worldwide cargo airlines, including charters. We have well-established relationships with preeminent All-Cargo carriers, a vital part of our business due to the typical large size of major machinery systems and semiconductors. We demonstrate our commitment to project success by attending and monitoring cargo operations, when moving climate-sensitive and high-valued consignments through airports. Our staff is IATA Dangerous Goods trained and certified.
Sea Freight Services
FAB Logistics is a bonded and FMC-licensed ocean freight forwarder. We help clients reduce equipment shipping costs by offering movement by ocean vessel. We understand, when shipping by sea, the goal is to lower cost without increasing risk of loss or damage. Our staff will help make sure ocean consignments, whether full container load or less-than-container, inbound or outbound, are packaged, loaded, and handled carefully. It is a company policy to avoid high-risk routings and packaging & handling methods for ocean cargo, when moving delicate equipment, machinery, and parts. We are IMDG hazardous materials trained and certified.
Trucking/Ground Freight Services
FAB Logistics is committed to quality trucking freight service. We recognize that all delicate and time-critical consignments must at some point move by ground. Truck service is an often-overlooked yet mission critical component of the supply chain. We resist the temptation to insert low-quality trucking outfits into our service offering. We are committed to limiting handling occurrences and respectful of pickup and delivery parameters. We provide, suggest, and encourage the use of air suspension trucks for delicate equipment. We are DOT trained and certified in 49CFR regulations to move Dangerous Goods consignments.
Export Compliance
Our trained staff supports exporting clients with US Department of Commerce export compliance matters, including adherence to Bureau of Industry and Security regulations. We are certified to submit AES (Automated Export System) filings with US Customs...
Find out more about this and our other international services.
Rigging
Professional and trained machinery riggers and millwrights are added to our logistics team to move fab equipment in and out of labs and factories globally ...
Factory Relocation
From single machine moves to complete factory relocation, FAB Logistics offers the skills, track record and peace of mind for all high-value or delicate capital equipment moves...