Factory Relocation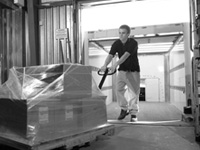 From single machinery moves to complete factory relocation, FAB Logistics offers the skills, track record and peace of mind for all high-value or delicate capital equipment moves.
Machinery and factory relocation experience
Fab Logistics' clients, ranging from small businesses to multinationals, are reassured by our reputation and experience of machinery moves across many market sectors. This includes installation, removal and relocation of all sizes of complex production and test equipment.
Fab Logistics has many years experience of machine moves and full site relocations for original equipment manufacturers and end-users in a range of industries. We have moved a wide range of machinery and equipment, especially in the semiconductor industry – taking total responsibility for ensuring the success of any project we undertake.
Skilled in-house resources and equipment for efficient relocations
Our fully qualified industrial relocation teams consist of riggers, fitters and M&E engineers led by experienced supervisors and fully supported by our Project Management and Logistics professionals. On-site teams are fully equipped with specialist tools and equipment needed for successful and safe machinery moves. From machine skates and hydraulic scoots, to air flotation systems, packing tools, fork lifts and lifting systems our teams arrive fully prepared for the task.
A full factory relocations service
Clients from around the world call on us for machinery move and factory relocation services that typically include the following:
Full site survey
Detailed plans and schedule for all machine moves
Commissioning and decommissioning
Method statements and risk assessments
Decontamination
Export packing and air, sea and road freight
Machinery removals and installations
On-site supervision and Project Management
CE testing
Equipment modification and upgrades
Mechanical & Electrical equipment services
Our full range of services allows FAB Logistics to plan, coordinate and execute all machinery and factory relocation requirements.
Clients with many and varied logistics requirements trust us with everything from specialist tool moves to complete factory relocations worth millions of pounds. Whatever the size or complexity of the project, we work closely with clients to provide a tailor-made service...
Find out more about this and our other freight forwarding services.
Export Compliance
Our trained staff supports exporting clients with US Department of Commerce export compliance matters, including adherence to Bureau of Industry and Security regulations. We are certified to submit AES (Automated Export System) filings with US Customs...
Find out more about this and our other international services.
Rigging
Professional and trained machinery riggers and millwrights are added to our logistics team to move fab equipment in and out of labs and factories globally ...